Building communities of your peers, where shared knowledge and experiences become the basis of creative problem solving, relationships that matter, and growth that leads to success.
9.9 Media brings together the people you want to know and those who want to know you. We shape dynamic communities everywhere – in business, in technology, in government, in education. We provide the platform for peers to exchange ideas, share experiences and insights, develop partnerships and grow.
Through powerful content, insightful events and tailored learning opportunities, we equip communities with the tools and resources that they need to succeed.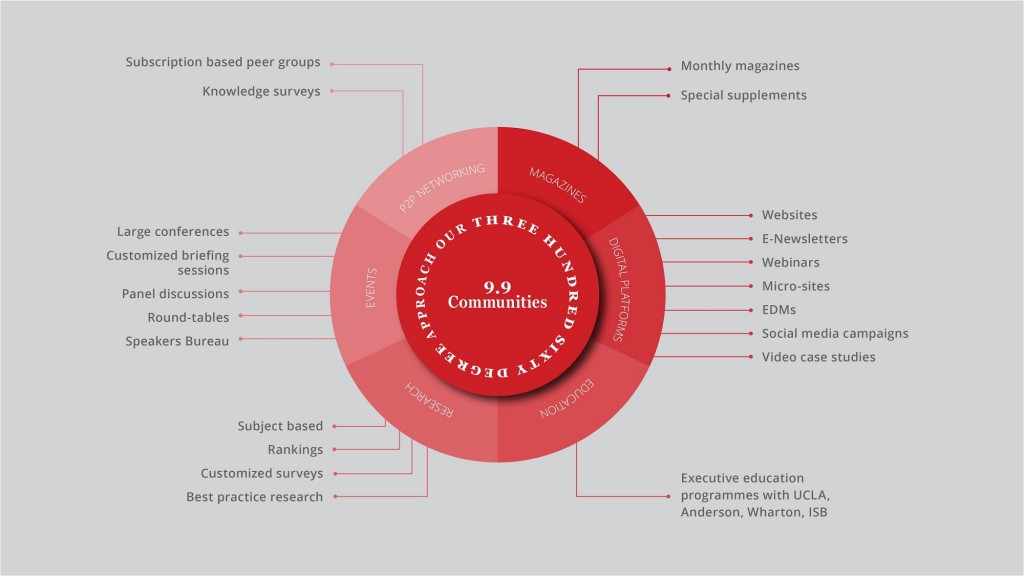 Stay informed
Our wide range of digital publications keeps communities informed about their fields – the latest developments, expert opinions, sharp predictions and deep analyses. In short – everything you need to make informed decisions and realize success.
Plug into the network
We create opportunities for you to meet the leaders and hear from the experts. Our face-to-face and custom events enable communities to collaborate for impact, explore new ideas and forge important relationships.
Learn and develop
Our tailored educational programmes for professionals offer a unique blend of inspiration, learning and capability-building. Our aim is to inspire you, help you grow as a leader, and hone the business skills you need to reach the pinnacle of your career.
9.9 Solutions is a B2B marketing services provider specializing in executing multi-channel marketing campaigns maximizing both digital and tele-calling skills to boost lead flow and increase revenue. We offer an array of different marketing services such as B2B Data and Database Marketing, Demand Generation, BANT Lead Generation, and Account-Based Marketing.
1. B2B Data and Database marketing
Marketing has come to depend on the input of big data in order to produce compelling strategies and to launch innovative campaigns. B2B data and database marketing are now an essential part of virtually every decision-making process. Gone are the days of relying on guesswork to know the composition of a target audience. Big data enables you to gain deep insights about any demographic you plan to target.
2. Demand Generation
Demand generation is the process of creating brand awareness and demand for the product or service of an enterprise. It also aims to engage prospects and introduce them to the company. Demand generation supports the entire sales and marketing cycle – from the initial prospect interest and lead generation to lead nurturing and sales transaction. A true demand generation strategy accounts for every touch point in the buyer's journey — all the way from anonymous visitors to loyal customers.
3. BANT Lead Generation
BANT (Budget Authority Time and Need) enables you to qualify leads based on different aspects, criteria, and prospects to generate Highly Qualified Leads (HQLs). These leads allow you to connect only with interested prospects so that you can get more conversions. While It can be expensive and time consuming time to get high qualified leads at the bottom of the funnel, a tailored approach can help you make the most of BANT strategies to get HQLs at the bottom of the funnel.
4. Account-Based Marketing
Account-Based Marketing (ABM) is a B2B strategy that engages both your sales and marketing efforts on a definite set of target accounts within a market and employs personalized campaigns designed to resonate with each account. With ABM, you can create a strategic set of activities that make companies rise above the rest and capture target accounts easily.